Main Contact Information: Project Roots / CLFW

Web Sites:
http://www.clfw.org
Join Us On:

Twitter: Click Here
Facebook: Click Here (Profile), Here (Group), & Here (Page)
_________________________________________________________________
Who Are We?

Beirut Office: Maronite Foundation & Christian Lebanese Foundation

His Beatitude Patriarch Mar Beshara Boutros Al-Rahi
Nehmat Frem, Vice-President
Emile Issa, General Secretary

Hiam Boustani, Managing Director

Youssef Douaihy, Studies & Statistics Director

Lebanese Churches in the USA (Bishops)

Metropolitan Philip Saliba- Antiochian Orthodox Christian Archdiocese of North America- Englewood, NJ
Metropolitan Mor Cyril Aphrem Karim- Syriac Orthodox Church of Antioch- Teaneck, NJ
Archbishop Moushegh Mardirossian- Western Prelacy of the Armenian Apostolic Church- La Crescenta, CA

Bishop Nicholas Samra- Melkite Greek Catholic Eparchy- Newton, MA

Bishop Gregory John Mansour- Eparchy of Saint Maron- Brooklyn, NY
Bishop Abdallah E. Zaidan- Eparchy of Our Lady of Lebanon- Los Angeles, CA
USA Office: Christian Lebanese Foundation in the World & Project Roots

Nada Salem Abisamra, Director

Najib Nasr,
Executive Assistant & Regional Coordinator (CA)
+ All Regional Coordinators & Parish Coordinators Listed Below

PROJECT ROOTS' REGIONAL COORDINATORS- USA
1. Boston, MA: RANDA YAZBECK ryazbeck@projectroots.net -- (617) 943-7960
Region Covered (5 States): MA, Maine (ME), New Hampshire (NH), Vermont (VT),
New York (not city) (NY), Rhode Island (RI)
2. New York City, NY: ROULA EID reid@projectroots.net -- (917) 975-6814
Region Covered (3 States+): NYC, Connecticut (CT), New Jersey (NJ), Pennsylvania E (PA)
3. Washington, DC: JOSEPHINE SFEIR BASSIL jsfeir@projectroots.net -- (202) 701-8338
Region Covered (6 States): DC, Maryland (MD), Virginia (VA), Delaware (DE), North Carolina (NC),
South Carolina (SC)
4. Miami, FL: NATHALIE MAROUN nmaroun@projectroots.net -- (305) 509-2850

Region Covered (5 States): FL, Tennessee (TN), Georgia (GA), Alabama (AL), Mississippi (MS)
5. Cleveland, OH: NAJIB (NANO) RACHED nrached@projectroots.net -- (216) 533-5266
Region Covered (5 States): OH, Pennsylvania (PA), Indiana (IN), West Virginia (WV), Kentucky (KY)
6. Detroit, MI: ANTOINE ABI-SAMRA aabisamra@projectroots.net -- (313) 506-2650
Region Covered (1 State): Michigan (MI)

7. Chicago, IL: -- info@projectroots.net -- (312) 961-2899

Region Covered (8 States): IL, Wisconsin (WI), Minnesota (MN), Iowa (IA), Missouri (MO),
North Dakota (ND), South Dakota (SD), Nebraska (NE)
8. Houston, TX: -- info@projectroots.net -- (832) 294-9223
Region Covered (6 States): TX, Kansas (KS), Oklahoma (OK), New Mexico (NM), Arkansas (AR),

Louisiana (LA)
9. Los Angeles, CA: NAJIB NASR nnasr@projectroots.net -- (310) 276-1939

Region Covered (10 States): CA, Montana (MT), Wyoming (WY), Colorado (CO), Idaho (ID),
Utah (UT), Arizona (AZ), Washington (WA), Oregon (OR), Nevada (NV)
PROJECT ROOTS' PARISH COORDINATORS- USA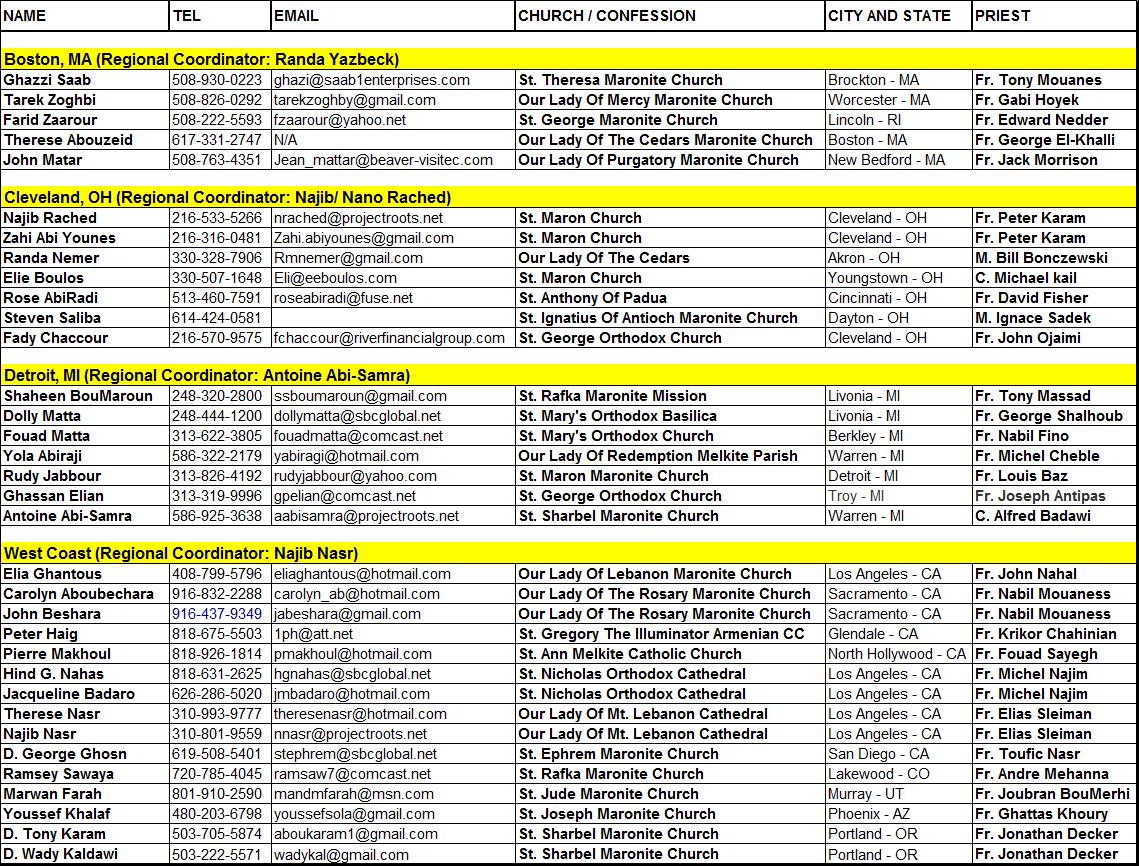 Some International Offices


CANADA
CHRISTIAN LEBANESE CANADIAN FOUNDATION

Father Antoine Tahan & Paula Hitti
1805 Sauvé Ouest # 213
Montréal (Québec) H4N 3B8
Tel.: (514) 439-2288
Cell.: (514) 969-1331
Fax: (514) 439-0833
Email: fmmc2011@hotmail.com
Webpage: http://canada.projectroots.net

Heures d'ouverture: Mardi au vendredi: de 13h à 20h / samedi: de 11h à 17h

AUSTRALIA (Sydney Office)
CHRISTIAN LEBANESE FOUNDATION
Fadia Bou Dagher Ghossayn

330-306 Canterburry Rd.,
Canterbury NSW 2193
Tel: 1 300779910
Fax: 9718 5555
Email: maronitefoundation@hotmail.com
Webpage: http://australia.projectroots.net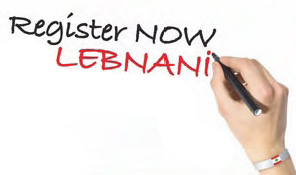 We Are Here to Serve You!
Together, We Can Make a Difference
________________________________________________________________________________

Director: Nada Salem Abisamra
Contact: Tel: (917) 755-0499 || Email: nada@projectroots.net
Last updated: Dec 7th 2013