Welcome to Our Website!
Are You of Lebanese Descent?

Make the Connection to Your Roots
Register Your Life Events
To Obtain Status in

"The Land of Your Fathers"

CONGRATULATIONS TO

Charbel Nemer (OH) and George Korio (CA)

who just won the

FREE TICKETS to LEBANON

during this year's drawing on May 12, 2013!

The Christian Lebanese Foundation and all the Lebanese Churches in the US are Joining Together to Help People, through Project Roots, to Reconnect with Their Roots in Lebanon.
DIRECTOR'S MESSAGE || MISSION STATEMENT
Offices have been established throughout the United States to assist, FREE of CHARGE, all Americans of Lebanese descent who are interested in:
1. Obtaining their sacramental records from their country of origin;
2. Connecting with family members living in their places of origin and throughout the world

where they emigrated;
3. Obtaining Lebanese citizenship;
4. Obtaining immigration records; and/or,
5. Remaining connected with their Original Mother Church in the US and throughout the world.
REGISTER WITH US TO WIN FREE TICKETS TO LEBANON!
ASK PROJECT ROOTS' COORDINATOR FOR YOUR REGION ABOUT THAT!

Registration maintains the connection of our present and future to our past. The value of registering vital events (birth, marriage, death, etc.) and the ability to take advantage of basic rights go to the heart of perpetuating Lebanese culture, customs, and traditions.

"We encourage you, if you are eligible, to act now to take advantage of your birth right as a Lebanese citizen. We also strongly encourage you not to deprive your child(ren) of the benefits and legal rights that Lebanese nationality confers to them: rights of property, rights of inheritance, and political & social rights.

Registration merely provides a continuous record of life events (birth, marriage, death, etc.) in public offices in Lebanon. If you register life events, it does not mean you are giving up any rights to other citizenships you hold."

ACT NOW. MAKE A DIFFERENCE.
PRESERVE YOUR HERITAGE!
The names of those who register with us will be entered in a lottery to win tickets to Lebanon!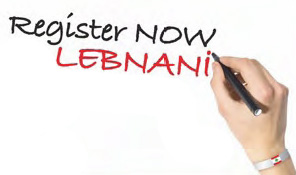 ________________________________________________________________________________
Webmaster & Executive Director: Nada Salem Abisamra
Contact: Tel: (917) 755-0499 || Email: nada@projectroots.net
Last updated: May 14th 2013